Mid-Year Update: Everything You've Been Asking About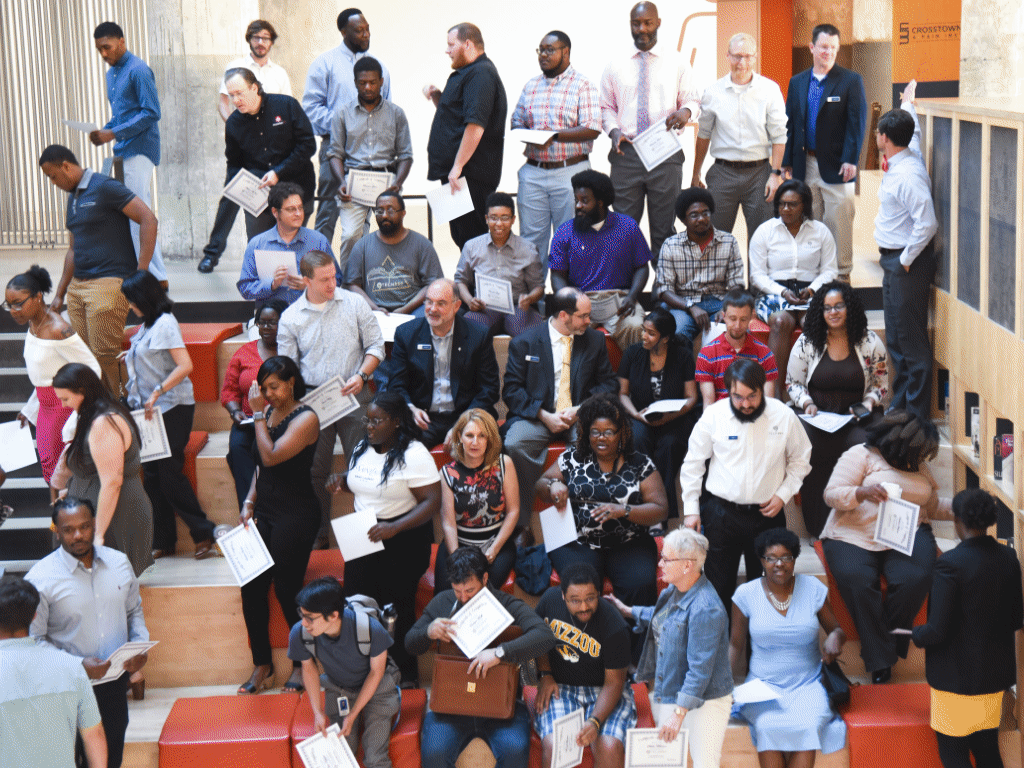 Congratulations to our 2019 mid-year graduates! 324 spring and summer students were in attendance, accompanied by families and friends.
120 students have graduated from Tech901 courses in 2019 so far, earning a combined total of 166 IT certifications.
Remember, these IT certifications are going to give you all the credibility and marketability you'll need as you head into the local IT job market-- a market in part responsible for the rapid growth of job opportunities here in Memphis.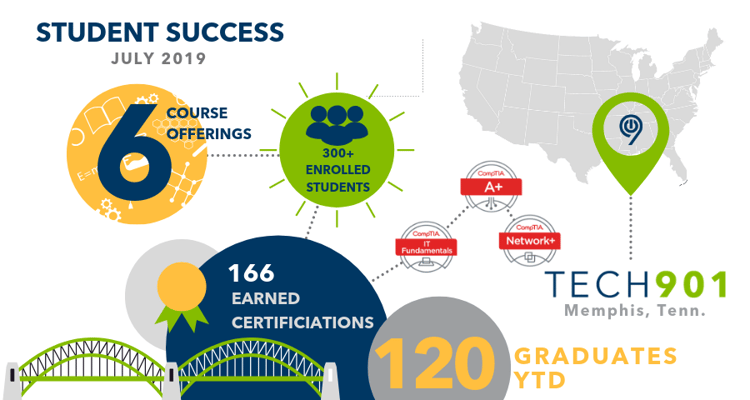 "The drive to seek out new adventures, make changes in your career, and follow through on your commitments is a testament to the character of you all, our graduates." -- Jenny Carmichael, Head of Admissions
---
Graduates: Stay Connected to Tech901
We want to hear about your successes! Tech901 graduates are making a name for themselves; in doing so, you're paving the path for future graduates as they head into the Memphis tech scene.
If you have the time, let us know about your new jobs!
Your information helps us figure out how Tech901 grads are changing the tech landscape and what kinds of opportunities might be out there for future graduates. The data also helps us raise the funds necessary for training future students just like you.
---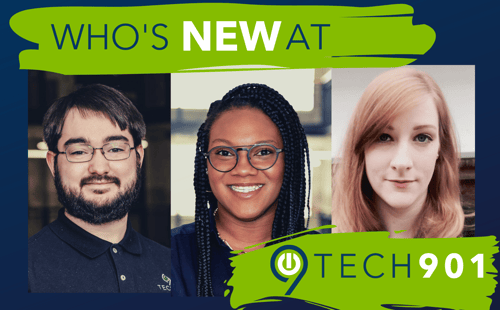 Who's New?
You may have seen a few new faces around the office. You may have asked yourself: "Who are these people- do they work here?". Well these people do, so if you haven't met them already, let me introduce you.

Trey McGinnis | Lead Instructor
Trey lead his first series of IT Foundations courses at the beginning of this year- and he's just getting started. Trey has a Memphis-focused background: prior to Tech901, he worked at CBU as an Applications Specialist and later as a Programmer Analyst. He told me he's looking forward to teaching one of the upcoming 2019 IT Project sessions. You can read more about Trey here.

Catrina Dean | Instructor
Catrina is a Web Developer & E-commerce Process Manager by trade. She comes to us from her work as a developer and designer at Autozone, and has experience teaching in the Shelby County School system to boot! She's passionate about design, travel, and new challenges. Catrina is currently working on the upcoming Web Programming course, which will be her first class here with us at Tech901. You can read more about Catrina here.

Margaret Price\ Marketing & Operations Coordinator
I've never had the chance to personally sit down with Margaret, but I hear she does it all at Tech901, including writing, photography, social media, graphics, and event coordination- she's supposedly a real renaissance figure. Margaret comes to Tech901 after the better part of a decade in Japan, working with NPOs to support the foreign national population in a number of smaller cities. If you see her, make sure to say hey!
---
Tell Me More About the New Web Programming Course
Starting from zero, students in Web Programming will get the opportunity to build their skill set and their portfolio. You'll be learning HTML, CSS, Javascript, and ReactJS through a course designed around a series of programing exercises.
Catrina Dean, the course instructor, will also be focusing on helping you learning a variety of front-end tools including git, gitHub, and frameworks.
After finishing the course, you'll be the perfect fit for a career as a web developer, UI/UX (user interface/ user experience) designer, or business analyst.
Essentially-- you'll be able to make a website, and make it look good.
Web Programming remains at the top of the list of fastest growing industries in the world, with an endless number of opportunities for those with the training. Learn what goes into building websites with Tech901 and its newest instructor today.
---
What's Changing as We Head into 2020?
Tech901 is making some big changes as it heads into its fifth year. Offering more courses than ever before, students will be able to choose from over 16 sessions throughout the year. We're lining up new instructors, exclusive certifications, and more opportunities.
Some new changes are also being made to the Tech901 admissions process. Going forward, all prospective students (that includes re-enrollers!) will be asked for either a high school or GED transcript during their enrollment process.
But don't worry, we have you covered.
If you grew up here in Memphis and attended a school that is part of the Memphis City School or Shelby County School Systems, your transcript could be a click away.
This click, in particular.
If you're from somewhere else, don't panic. Many school systems have started offering transcripts to graduates online- try a quick google search for the school you graduated from, and include "transcripts".
Maybe your school doesn't exist anymore, or maybe you're from out of the country. If you are unable to get a hold of a transcript, we've got you. The admissions test we require can be taken in person, with a valid id, here at Tech901.
---
But Where are the New Classes?
We've got the 2020 course schedule ready for students, available here. If you're interested in any of the courses being offered, apply ASAP- those IT Foundations classes in particular fill up fast.
Returning Tech901 Students
We've got a page just for you. If you've taken a class with us before, head over to the link below for more information regarding readmission.
If you have any questions regarding the courses we offer, check out the rest of the site, or get in touch with us directly at info@tech901.org.
animated gif provided by Cliply.co
I've spent nearly a decade of my life in Japan, honing a variety of skills including communications, local outreach, and storytelling. I enjoy working for and with the public through any number of mediums including print, video, and web.