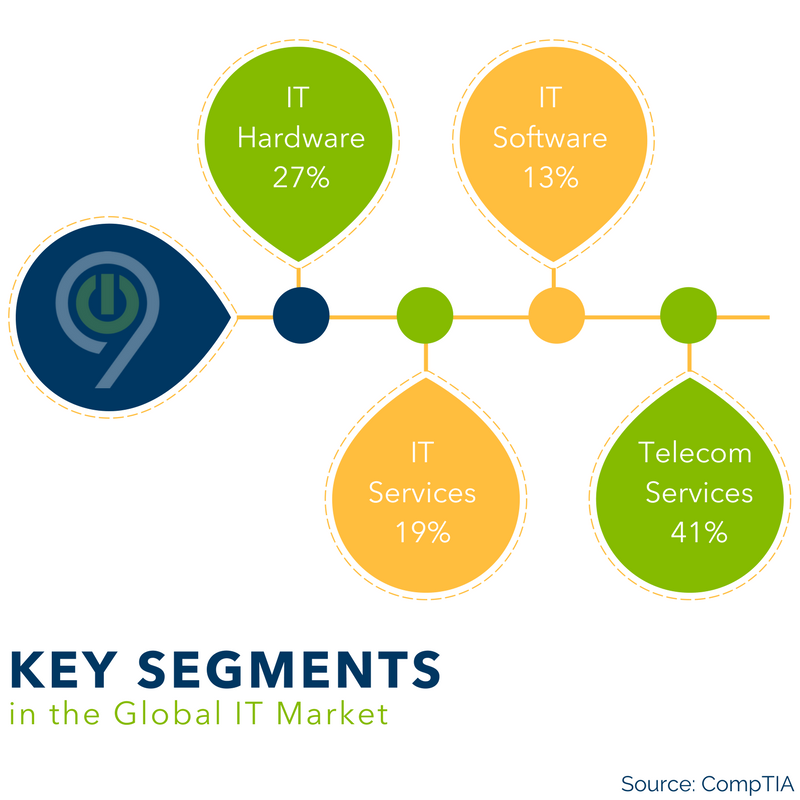 Growth and innovation abound in the technology sector. Recently, the top five most valuable companies in the world announced were all technology companies. Tech even dominates the outlying sectors! CompTIA studies predict that the growth of IT Industry looks more than optimistic with the growth pushing the global IT industry to $3.4 trillion by the end of 2017.
Explore the breakdown of the most important segments of globally top-ranked skill sets in IT:
IT Hardware
Servers
Personal computers
Storage
Smartphones
Tablets
NetworkEquipment
Printers
IT Services
Planning & Implementation
Support services
Operations management
Training
"In the U.S. market, IT services and software capture larger shares compared to the global market: 25 percent vs. 19 percent and 21 percent vs. 13 percent, respectively." -CompTIA
IT Software
Applications
System Infrastructure Software
Telecom Services
Fixed voice
Fixed data
Wireless voice
Wireless data
The key skills demanded globally in the U.S. tech sector can be at your fingertips with Tech901. Employers are looking for talent to fill the in-demand jobs. Our Hardware Tech and IT Professional training tracks prepare you to be job ready in as little as 12 weeks! Click here to learn more about Tech901 programs.