FedEx Awards Tech901 with Information Technology Job Training Grant
Entry level jobs with IT Certifications
MEMPHIS, Tennessee — For the second year in a row, Tech901 has been awarded a grant from FedEx Corp. ("FedEx") in support of its information technology ("IT") job training programs.
The grant from FedEx is in support of two IT training programs at Tech901: its IT Foundations course as well as its Code 1.0 course. This grant funds instructional resources as well as textbooks and vouchers for certifications testing.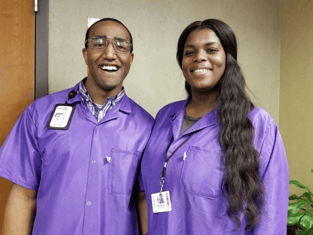 "We are deeply grateful to FedEx for their ongoing support of Tech901 and our mission to grow the IT workforce in the Memphis area," said Robert Montague, Executive Director of Tech901. "FedEx is an invaluable supporter of Tech901, not only from a financial perspective, but also as an employment partner to Tech901 and our graduates."
The IT Foundations offering prepares students for employment at companies like FedEx and is Tech901's most popular course. Covering 12 weeks of instruction, IT Foundations is designed to prepare students for entry-level positions as IT Hardware and Helpdesk Technicians. Students learn to identify components, install hardware and software, implement industry best practices, and troubleshoot common problems. And at a price of just $100, the course is affordable for Memphians who wish to enter the IT field but lack the financial resources to pursue IT as a career. Many Tech901 graduates are presently working at the FedEx TechConnect operation.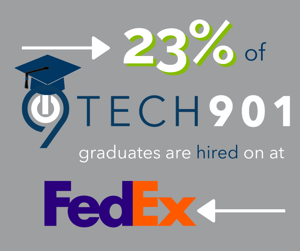 Tech901's Code 1.0 offering spans 14 weeks and is an introduction to computer programming that is approachable for those who have no experience while still posing a challenge for those with some previous programming experience. The $250 course introduces basic computer programming topics including logic, flow control, functions, and data structures. It also includes a broad survey of Computer Science topics such as algorithms, computational complexity, and software engineering with just enough information to help one be conversational in these topics. Several Code 1.0 graduates from Tech901 are presently employed at FedEx.
"Tech901 is proving to FedEx that Memphis has a strong base of trainable IT talent here in the Mid- South," said Rob Carter, Executive Vice President, FedEx Information Services and Chief Information Officer. "FedEx is pleased to partner with Tech901 and to empower its IT job training platform as part of our Global Citizenship initiative."
As is the case with all Tech901 courses, both IT Foundations and Code 1.0 prepare students for employment upon graduation, even if they begin the courses with no prior IT experience. In fact, many of the students of Tech901 are interested in changing careers to IT and demonstrate both the determination and the dependability that employers like FedEx are seeking for its workforce. The grant provided by FedEx funds these two course offerings in calendar 2019.
About FedEx Corp.
FedEx Corp. (NYSE: FDX) provides customers and businesses worldwide with a broad portfolio of transportation, e-commerce and business services. With annual revenues of $67 billion, the company offers integrated business solutions through operating companies competing collectively and managed collaboratively, under the respected FedEx brand. Consistently ranked among the world's most admired and trusted employers, FedEx inspires its more than 425,000 team members to remain focused on safety, the highest ethical and professional standards and the needs of their customers and communities. To learn more about how FedEx connects people and possibilities around the world, please visit about.fedex.com.