Monét Marshall: Balancing a Career in IT with... Everything Else
If you're interested in the course Monét took that lead to her IT Career, apply for IT Foundations today.
Monét Marshall, 28, has two major passions in life: sports and tech. As a contract worker with Stefanini, she gets to work at Nike, which is a dream come true for this athlete with a penchant for IT. For nearly a year now, Monét has held the title of Help Desk Technician.
Now, Help Desk Technician can mean a lot of things for different companies, so let me tell you more about her day — or rather her night. Monét works the 10PM to 7AM shift, which she assures me is a perfect fit: "I love it! I'm a total introvert. I walk in, say 'hey' to the section ladies, and go to my desk. I like my team, but as their shifts end, it's just me by myself."

I'm a morning person- I wanted that shift. I get the day to do whatever I want. I get off work, go work-out, go visit my grandma and my cat…
IT Detective
During her shift, Monét is responsible for end-user support, which includes maintaining, troubleshooting, and configuring in-company systems. Her job is to make sure Nike employees are able to do their jobs. I asked her about the number one problem she finds herself solving. Laughing she replies: "people don't remember their passwords!"
Monét has to have exceptional customer service skills, but she also has to be a bit of a detective. "I have to be polite and attentive- they don't know what the problem is when they call me, so I have to pay attention, and figure out what they're really asking."
"I've started to pay attention to details", she continues. "I make sure I get as many details as I can when talking to someone. If it's something I've never heard of before, I can cite the company article, or I can learn, and help the next person with the same issue."
What I really understand from talking to Monét though, is that this career gives her the balance she needs in her life: she has a stimulating work environment she enjoys, but then she gets to go home. She gets to pursue her creative interests, and her passion for volleyball.
A Lifelong Passion for Tech and Sports
Monét is from Memphis originally, and she grew up in the PowerPoint era. Her early tech classes in school are what sparked her interest in IT. The first tech gear she ever had was one of those little digital organizers- an item she remembers fondly: "I use to write all of my important stuff down in that thing", she laughs.
Her grandmother knows to come to Monét if she's got any computer problem she can't handle on her own, because that's just who Monét has always been: "A lot of the things I learned in Core 2 (the second half of the CompTIA A+ Certification Exam) were things I had picked up on my own, by being the tech savvy person in the household".
Monét attended Middle Tennessee State University with the help of a volleyball scholarship. She was interested in computer engineering in college, but she chose a different route. She graduated in University Studies, and Health and Social Work, but following an emotionally taxing internship, she knew that Social Work wasn't what she wanted to do with her career. Luckily, she had plenty of experience playing volleyball and coaching.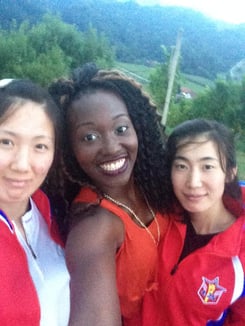 Now, Monét has always tried to balance her jobs with volleyball: it's what she loves, and she's good at it. As a player, she's played at the college level. She even played for an international team in Spain in her early 20's. " I was part of a volleyball tour in Slovenia, trying out for teams in Europe", she tells me. "We even got to play against girls from North Korea- they were next level." Dealing with language barriers and navigating a new city for the first time, Monét enjoyed her time in Spain. "You know, even then Nike was helping me out- I knew exactly where the Nike store was, and how to get to it. It was my first time taking trains everywhere but I knew where that store was!"
Spain was a great experience, and Monét assures me she wouldn't trade it for anything. But then she injured her shoulder (a recurring injury). She returned to Memphis to heal, and to look for new opportunities. For a girl who's tried MMA, jiu-jitsu, muay thai, basketball, volleyball, and yoga, it was a major life change. "I wanted to make a career of sports, but my body hurt so much after that. I couldn't keep putting it through all of that much longer."
She continued to play volleyball seasonally- and even joined in some major competitions. She coached local volleyball teams on the side, teams like MIDTN, which she has been involved with for years. "I work with a lot of players one-on-one, mostly with black schools. Even in middle school, I was going to volleyball camp and coming back to the team with all of the things I had learned." For Monét, it's important to pass on the things she learned from volleyball: self-esteem, team-work, and personal responsibility.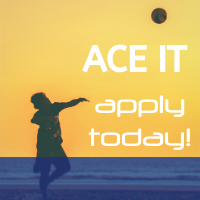 "Their lack of confidence means I'm trying to teach them self-love, team-love, and how to play the sport. I hope that something I say or do sticks with them".
But through all of this, Monét was working retail jobs. She wanted something else for her career.
Making the Move to I.T. Training
That's when Monét, with the advice of her fiancé, came to Tech901.
"I had always wanted to be in the tech field, but the math straight shut me down. In college my goal was to keep my scholarship, so I didn't take the risk." By this time last year, however, Monét had reached a turning point in her life: "I had never made it on a job for more than a year- it was either being bored with the job or frustrated with the pay. I couldn't do what I need to do and reach the goals I have."
Monét wanted something that was a financially and emotionally fulfilling- but when she saw looked up classes herself, she was skeptical. "When I saw how much it was- I was like they're going to give all this away for that price?!"

For me I felt it was too good to be true- I couldn't get out of retail. I couldn't get jobs in admin even though I had the experience
She made the decision to drop to part-time. She tells me she was more than willing to make the sacrifice, because she knew the class was going to be her ticket out.
The class Monét enrolled in was IT Foundations, a 12-week course that gave her the fundamentals she needed for her current job working with IT troubleshooting. It was also a chance for her to learn more about what she wanted out of life.
"It was one of those times where I had a lot of those heart talks with myself- I cried over those tests and the frustration of how hard it was, but I had to do it. There was no other choice in my mind."
Her instructor, Trey McGinnis, along with her fellow classmates, helped Monét get through the toughest parts of the class. "Trey was awesome. If you could put a picture next to the word patience- it would be Trey."

I enjoyed the diversity, and the age range, and the experience in my classmates- I wasn't the only one super new, and everyone had different perspectives
Monét really put her all into the class. She studied- a lot. Monét tells me Foundations was tough for her—but that it was also totally worth it. "I was proud I made it through class. Tech901 is where I started to truly challenge myself- I needed to learn new skills, and I needed to find out how much I wanted it."
These days, Monét's official employer is Stefanini (a multinational service and software provider). A lot of larger companies like Nike contract with companies to get them qualified and well-vetted IT employees. Local employers have Tech901 graduates working at big names like FedEx, ALSAC/St. Jude, and Sedgwick.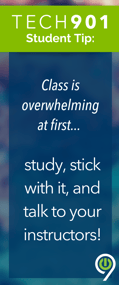 A fellow classmate was the one who told Monét about the position with Stefanini at Nike, and she knew right away that it was destiny. It was Nike, after all, a brand she had loved since she had picked up sports as a kid. Monét sent in her resume right away. She tells me the interview went perfectly—something she credits to Tonya Braden, who coaches our trainees on interview skills, resumes, and networking.
"She told us to just fake the confidence until we made it, and it totally worked. She told us to research the company beforehand, and to just go in and have a conversation with them. That's exactly what I did."
Nike put her through 4 weeks of training, and that was it- Monét had the job she had trained for at Tech901.

If you want to go hardware, go this route. Just go ahead and do it. Stick it out, I promise it's worth it. Tech901 there to help you
Monét still has more she wants to learn. She has a lot on her plate right now, but she wants to study User Interface/UX in the future (something she could learn more about in Tech901's Web Programming class... just saying). "I want something more creative. A lot of things I do outside of work and volleyball, it demands more creativity." She has a ton of small business ideas, and knows she wants an online platform to showcase them...some day.
Even after starting her new career, Monét has continued to take courses with Tech901. She's got goals, and she's going to achieve them. Her time in IT Project helped her develop one project in particular… but when I press her to tell me what it is, all she can do is smile.
From her hints, I think it might have something to do with starting her own volleyball club. And I think that's perfect. She'll be able to combine both her passions—technology and sports—into something great for Memphis.

I've spent nearly a decade of my life in Japan, honing a variety of skills including communications, local outreach, and storytelling. I enjoy working for and with the public through any number of mediums including print, video, and web.