Tech901's to Expand IT Job Training in 2019 with Grant from First Tennessee Foundation
Memphis, TN, February 26, 2019 – Tech901 is pleased to announce it has received a $10,000 grant from the First Tennessee Foundation. This grant will support Tech901's planned information technology job training expansion in 2019 to meet local workforce shortages while offering its adult students rewarding career opportunities.
"Rapid changes in technology pressure all organizations to build their workforce to meet customers' demands," said Bruce A. Livesay, Executive Vice President & Chief Information Officer at First Horizon National Corporation. "We are beginning to see alternative certification programs, like Tech901, fill the workforce gaps while helping unemployed or underemployed Memphians improve their lives."
In 2018, Tech901 delivered 350 affordable student-courses and this grant provides critical support toward planned 2019 capacity of over 500 trainings. Thanks to First Tennessee Foundation's and other organizational backing for the students, Tech901's courses are offered with fees of only $100 or $250 providing equitable opportunities to all who qualify independent of resources.
In addition, First Tennessee Bank provided laptop computers, servers, and networking equipment to expand Tech901's teaching data center lab. The hands-on exercises are expanding Tech901 students' real-world, job task experience to complement their industry certification preparation.
"With First Tennessee Foundation's support, we are able to offer more students certification preparation with applicable work skills for a growing job base of IT infrastructure jobs," said Robert Montague, Executive Director at Tech901. "The instruction and in-class experience are invaluable to Tech901's graduates and their ability to provide immediate value to address the pressing workforce needs, and to earn on average nearly a doubling in pay from their previous employment."
Across the country, employers struggle to find adequate numbers of trained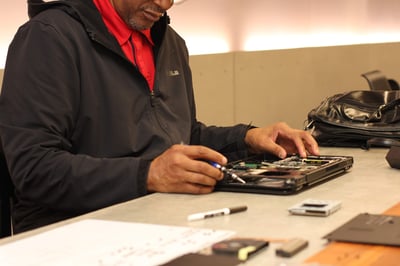 information technology (IT) workers. Tech901 provides its adult students with essential IT and soft-skill training to address the specific shortages and to support the economic growth and health for Memphis' future. A recent industry survey showed that 91% of employers prefer to hire workers who have industry certifications. Tech901's career programs provide instruction to prepare students to certify their competence in a targeted variety of IT career paths.
About First Horizon Foundation
First Horizon Foundation, doing business as First Tennessee Foundation and Capital Bank Foundation, is the private charitable foundation of First Horizon National Corp., the parent company of First Tennessee Bank National Association (operating as Capital Bank and First Tennessee). Founded in 1993, our foundation has donated more than $90 million to meet community needs. More information is available at www.firsttennesseefoundation.com or www.capitalbank-us.com/foundation.
For more information contact: Alana Hu, First Tennessee Foundation, ayhu@firsttennessee.com, 901-523-4112